---
Rihanna celebra su espectáculo de medio tiempo del Super Bowl recibiendo cinco nominaciones al Emmy
Written by rasco on July 13, 2023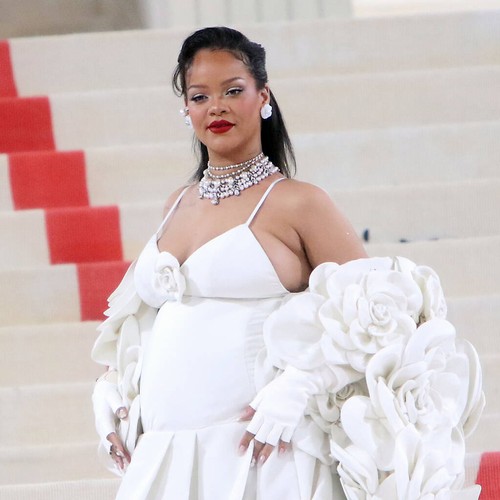 Rihanna respondió a su espectáculo de medio tiempo del Super Bowl recibiendo cinco nominaciones para los premios Emmy 2023 el miércoles.
La cantante de Umbrella acudió a Instagram el miércoles después de que se anunciara que su actuación en el gran espectáculo deportivo anual había sido nominada a cinco premios Emmy, incluido el especial de variedades sobresaliente (en vivo).
"Pull up Breed Up 2 d bashment (sic)", escribió junto a las fotos de su actuación. "¡5 EMMY NOMZ es craaaaazzzyyy! ¡Estoy muy agradecida por cada una de las personas involucradas en la creación de estos recuerdos (sic)!"
The Halftime Show también fue nominado a Diseño de Producción Sobresaliente para un Especial de Variedades, Dirección Musical Sobresaliente, Dirección Técnica y Trabajo de Cámara Sobresalientes para un Especial y Dirección Sobresaliente para un Especial de Variedades para Jay-Z y Hamish Hamilton.
Rihanna solo está nominada específicamente para Especial de variedades sobresaliente (en vivo) junto con su colaborador de Umbrella, Jay-Z, quien fue productor ejecutivo del programa.
Se enfrentan a Chris Rock: Selective Outrage, Elton John Live: Farewell From Dodger Stadium, The Oscars y la 75.ª entrega anual de los premios Tony.
La actuación marcó el regreso en vivo de Rihanna después de tomarse un tiempo fuera de la industria de la música para concentrarse en sus negocios de belleza y moda. Durante el programa, también reveló que está embarazada de su segundo hijo con A$AP Rocky.
Los Premios Primetime Emmy 2023 se llevarán a cabo el 18 de septiembre.
---
Descarga nuestra APP BEONERADIO
Google Play | Apple Store
www.be1radio.com
Instagram: @be1radio
---