---
Guns N' Roses y Arctic Monkeys encabezarán el Festival de Glastonbury 2023
Written by rasco on March 5, 2023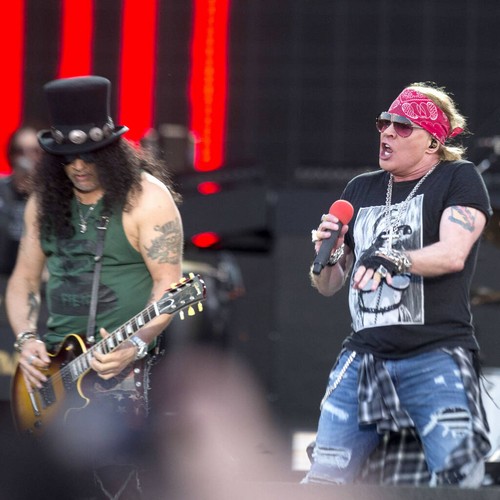 Guns N' Roses y Arctic Monkeys encabezarán el Festival de Glastonbury 2023 junto a Elton John.
Los organizadores de Glastonbury anunciaron el viernes que los rockeros de Sweet Child O' Mine harán su debut en Worthy Farm el sábado del festival, mientras que los Arctic Monkeys cerrarán el Pyramid Stage por tercera vez el viernes.
Se unen al cabeza de cartel previamente anunciado, John, quien usará su actuación como cabeza de cartel el domingo 25 de junio para servir como el último espectáculo en el Reino Unido en su gira de despedida.
La cantautora Cat Stevens actuará durante el espacio de "leyendas" del domingo por la tarde, que previamente ha sido ocupado por Kylie Minogue, Dolly Parton y Diana Ross. Blondie subirá al escenario inmediatamente después de Stevens, esencialmente creando un cartel doble de "leyendas".
El viernes se dieron a conocer más de 50 actos, con artistas notables en la formación inicial, incluidos Lizzo, Lana Del Rey, Lewis Capaldi, Lil Nas X, Kelis, Wizkid, Christine and the Queens y Fatboy Slim.
En una entrevista con The Guardian, la organizadora Emily Eavis se dirigió a los cabezas de cartel exclusivamente masculinos y reveló que Guns N 'Roses fueron reclutados después de que una cabeza de cartel femenina se retirara porque "cambió sus planes de gira". Si bien no dio nombres, Taylor Swift, que está de gira este verano, es la única cabeza de cartel del festival descartado de 2020 que aún no se ha presentado en Glastonbury.
Eavis también se burló de que probablemente habrá dos cabezas de cartel femeninas en 2024, aunque solo una está confirmada hasta ahora.
El Festival de Glastonbury 2023 se llevará a cabo del 21 al 25 de junio en Worthy Farm en Pilton, Somerset.
---
Descarga nuestra APP BEONERADIO
Google Play | Apple Store
www.be1radio.com
Instagram: @be1radio
---