---
Fall Out Boy se burla de la canción de Ethan Hawke en un pequeño concierto en Manchester
Written by rasco on March 16, 2023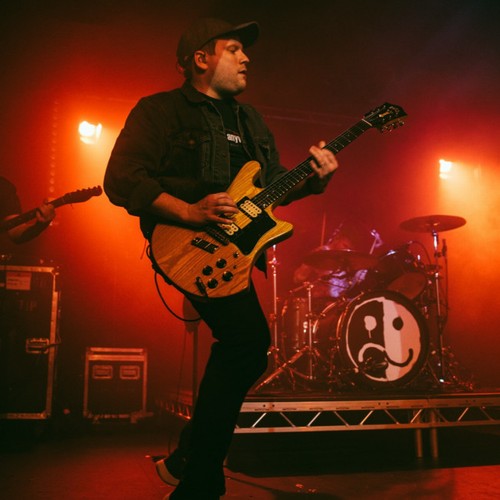 Fall Out Boy ha invitado a los fanáticos a ver por primera vez una nueva canción con Ethan Hawke.
Los creadores de éxitos de 'Sugar We're Going Down' se burlaron de los fanáticos en un concierto íntimo frente a solo 500 personas en Band on the Wall en Manchester, Reino Unido el miércoles (15.03.23) mientras tocaban la introducción de la canción y revelaron cómo él inspiró la dirección de su nuevo álbum.
El bajista Pete Wentz admitió que 'So Much (for) Stardust' es un disco de dos mitades, con la primera sección más oscura influenciada por el actor y cineasta de Hollywood Ethan antes de una segunda mitad inspirada en 'Field of Dreams'.
Antes de reproducir una grabación de la sección instrumental de 'The Pink Seashell', hizo referencia al logotipo reciente de la banda que tiene una cara sonriente dividida en una expresión triste y feliz.
Él dijo: "Si la cara sonriente tiene dos lados diferentes, entonces esta es la primera mitad".
Los fanáticos que tuvieron la suerte de conseguir entradas para el pequeño espectáculo también pudieron escuchar los sencillos 'Love From The Other Side' y 'Heartbreak Feels So Good', así como muchos cortes profundos.
Entre ellos se encontraba la primera actuación de 'Headfirst Slide Into Cooperstown on a Bad Bet' desde 2009, así como la segunda presentación completa de 'Calm Before The Storm' de 2003, que apareció en su debut 'Take This To Your Grave'. desde 2007.
Comenzando con 'Love From The Other Side', Pete, Patrick Stump, Andy Hurley y el miembro de la gira Ben Young, quien está reemplazando al guitarrista Joe Trohman mientras se toma un descanso para concentrarse en su salud mental, también se lanzaron a través de los gustos de ' Grand Theft Autumn (¿Dónde está tu chico?)', 'Dance, Dance', 'Hum Hallelujah' y 'Esto no es una escena, es una carrera armamentista'.
Pete aprovechó la oportunidad para rendir homenaje a la escena musical de Manchester e insistió en que Fall Out Boy no habría sido una banda si no hubiera sido por el trabajo preliminar realizado por grupos de la ciudad del norte.
Y notó lo especial que era estar en un lugar tan pequeño sintiendo una conexión con los fanáticos después de haber tenido momentos durante la pandemia de COVID en los que no quería volver a salir de su casa.
También hizo referencia a la forma en que algunos fanáticos desearían haber estado allí para el ascenso del grupo a la cima antes de convertirse en rockeros de estadio de pleno derecho, admitiendo: "Así es como se sentía".
---
Descarga nuestra APP BEONERADIO
Google Play | Apple Store
www.be1radio.com
Instagram: @be1radio
---