---
'F *** em" Bruce Springsteen habla de ser CORTE mientras sube al escenario en Hyde Park
Written by rasco on July 7, 2023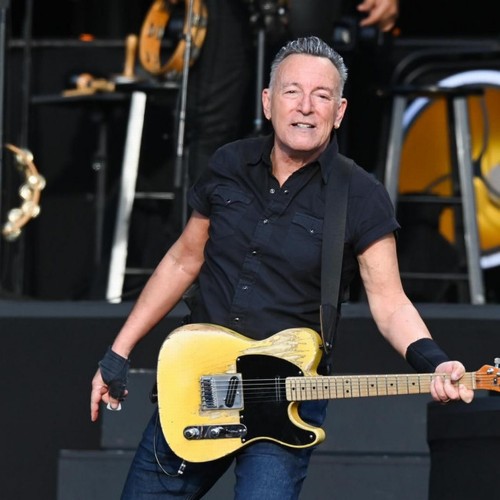 Bruce Springsteen advirtió a la audiencia en Hyde Park que estaba a punto de ser interrumpido cuando se acercaba al final de su actuación en Hyde Park.
La estrella de rock de 73 años subió al escenario el quinto día de Hyde Park BST el jueves (07.07.23) por la noche y recordó que los organizadores lo interrumpieron hace más de una década cuando él y la leyenda de los Beatles, Sir Paul McCartney, excedieron su límite de tiempo. y comenzó a tocar su reloj hacia el final del nuevo conjunto.
Hablando en vivo en el escenario, se volvió hacia el miembro de la banda E Street, Steven Van Zandt, y dijo: "Te lo digo, si no vamos, nos desconectarán de nuevo. F *** 'em ! London, ¿hay alguien vivo ahí afuera esta noche? Porque si tú estás vivo, entonces yo estoy vivo. ¡Y para eso vinimos aquí!"
En 2012, cuando Bruce encabezaba el evento Hard Rock Calling con el cantante de 'Hey Jude', los organizadores decidieron desconectarse en aras de la seguridad pública.
Los organizadores Live Nation dijeron en un comunicado en ese momento: "Las autoridades establecen el toque de queda en interés de la salud y la seguridad del público. Los cierres de carreteras alrededor de Hard Park se realizan en momentos específicos para asegurarse de que todos puedan salir del área sin peligro."
El jueves por la noche, la megaestrella estadounidense trajo consigo seis décadas de éxitos cuando subió al escenario en el festival anual para interpretar canciones como 'Letter To You', 'Ghosts', 'The Promised Land', 'Kitty's Back' y 'My Hometown' antes de concluir el set de tres horas con 'Dancing in the Dark' y 'Tenth Avenue Freeze-Out'.
Las cosas tomaron un giro más sombrío cuando decidió dedicar 'Last Man Standing' y 'Backstreets' a su amigo de toda la vida y compañero de banda George Theiss, quien murió en 2018 luego de una batalla contra el cáncer a la edad de 68 años.
Él dijo: "¡Sé bueno contigo mismo y con los que te rodean!"
---
Descarga nuestra APP BEONERADIO
Google Play | Apple Store
www.be1radio.com
Instagram: @be1radio
---
Continue reading