---
Lana Del Rey en camino a su sexto álbum número 1 en Reino Unido
Written by rasco on March 27, 2023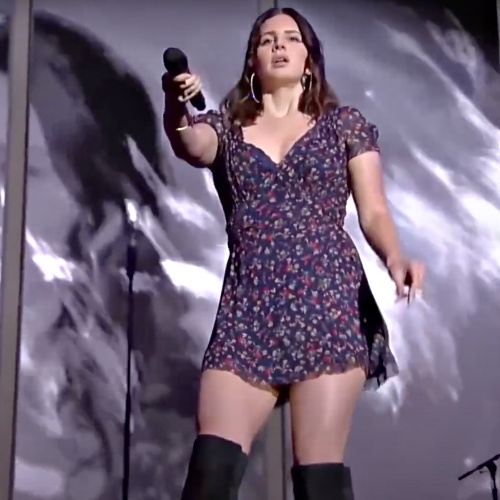 Lana Del Rey está de vuelta y se dirige a su sexto álbum número 1 en el Reino Unido.
El noveno álbum de estudio de la cantautora, ¿Sabías que hay un túnel debajo de Ocean Blvd.?, es el más autoanalítico hasta el momento y, en este momento, está creciendo para debutar en la cima de la lista de álbumes oficiales.
Sería el sexto LP de Lana que encabeza las listas de éxitos, uniéndose al influyente debut Born to Die (2012), Ultraviolence (2014), Lust for Life (2017), Norman F*cking Rockwell! (2019) y Chemtrails Over the Country Club (2021).
En la etapa de mitad de semana, Lana lidera un posible Top 5 completamente nuevo en la lista de álbumes oficiales. Los innovadores del synth-pop Depeche Mode están listos para obtener su récord más alto en diez años con Memento Mori (2).
Mientras tanto, Fall Out Boy lucha para asegurar un quinto LP Top 10 del Reino Unido con So Much (for) Stardust (3).
Pink Floyd celebra el 50 aniversario de su influyente obra de rock progresivo Dark Side of the Moon con una nueva caja reeditada, una edición en vinilo de su Dark Side of the Moon – Live at Wembley 1974 liderando la carga (4) – en conjunto, la grabación original de El lado oscuro de la luna podría regresar al Top 10 (9).
Completando el Top 5 potencialmente completamente nuevo está el magnate del country estadounidense Luke Combs, cuyo Gettin' Old podría convertirse en su álbum más alto en las listas de éxitos hasta el momento en el Reino Unido (5).
La banda japonesa de hard rock kawaii BABYMETAL se dirige a su primera entrada en el Top 10 del Reino Unido con The Other One (7), mientras que el quinto álbum de Elton John, Honky Chateau, celebra su 50 aniversario con un posible reingreso al Top 10 (8), habiendo alcanzado su punto máximo en Número 2 en su lanzamiento original en 1972.
La cantautora georgiana-británica Katie Melua podría ser nuestro último debut en el Top 10 esta semana, con Love & Money que parece estar listo para convertirse en su noveno LP en llegar a los escalones superiores de la lista de álbumes (10).
Más abajo, los grandes éxitos de la banda de rock británica The Kinks, The Journey – Part 1, apuntan a un debut en el Top 20 (13), ya que False Lankum, del grupo de folk irlandés contemporáneo, parece probable que se convierta en su primer disco en las listas del Reino Unido (17).
Mientras los espectadores continúan disfrutando de la adaptación de Amazon Prime Video de la novela más vendida de Taylor Jenkins Reid, Daisy Jones & The Six, la banda ficticia del mismo nombre, compuesta por los miembros del elenco Riley Keough, Sam Claflin y Suki Waterhouse, se dirige a un nuevo pico con Aurora (33), siete a mitad de semana.
Y finalmente, el grupo de heavy metal Saxon, proveniente de Barnsley en South Yorkshire, podría obtener una entrada número 11 en el Top 40 oficial con el álbum de covers More Inspirations (35).
---
Descarga nuestra APP BEONERADIO
Google Play | Apple Store
www.be1radio.com
Instagram: @be1radio
---