---
Tom Grennan listo para anotar su segundo álbum número 1 con 'What Ifs & Maybes'
Written by rasco on June 19, 2023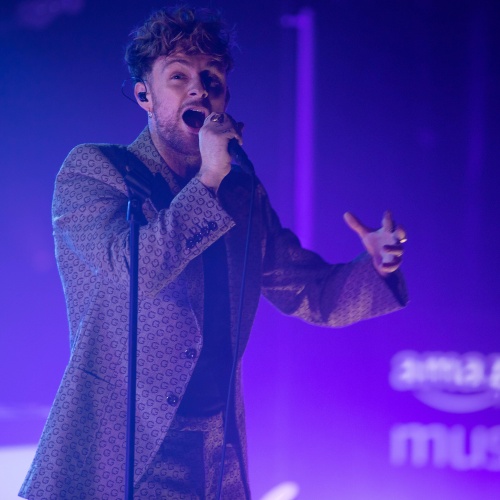 Tom Grennan lidera la carrera por el álbum número 1 oficial de esta semana con What Ifs & Maybes.
El cantautor nacido en Bedford parece listo para marcar su segundo LP que encabeza las listas de éxitos con su tercer álbum de estudio, luego del éxito del debut de 2018, Lighting Matches (5) y el seguimiento de 2021, Evering Road (1).
Los titanes del rock estadounidense Queens of the Stone Age podrían adjudicarse un sexto álbum Top 10 con In Times New Roman… (2), mientras que la compilación de éxitos SMASH: The Singles 1985-2020 podría otorgar al dúo londinense de synth-pop Pet Shop Boys su decimoctavo (3) .
El LP homónimo de Far From Saints podría ver al trío anotar un debut en el Número 4. Far From Saints es el primer lanzamiento colaborativo de Kelly Jones de Stereophonics, junto con Patty Lynn y Dwight Baker de The Wind and The Wave.
El grupo de K-pop ATEEZ está en camino de reclamar su primer álbum Top 10 con THE WORLD EP.2: OUTLAW esta semana. La banda, compuesta por Hongjoong, Seonghwa, Yunho, Yeosang, San, Mingi, Wooyoung y Jongho, parece lista para debutar en el número 6 con la colección.
Antes de su presentación en Glastonbury este fin de semana, la compilación de éxitos de Texas The Very Best Of – 1989-2023 se convierte en el noveno disco Top 10 del grupo (7), mientras que el cantante, compositor y compositor nacido en Richmond Ben Howard espera disfrutar de un quinto Top 10 álbum con Is It? este viernes (8).
Celebrando el vigésimo aniversario de su álbum debut, una reedición multiformato de Sound of the Underground de Girls Aloud podría verlo regresar al Top 10 por primera vez en muchos años, en el número 9 a mitad de semana. El primer lanzamiento completo de Nadine Coyle, Nicola Roberts, Cheryl Tweedy, Kimberley Walsh y Sarah Harding originalmente alcanzó el puesto número 2 tras su lanzamiento en 2003.
También celebra su vigésimo aniversario Neon Nights de Dannii Minogue, que busca regresar al Top 20 por primera vez desde 2003 esta semana, y actualmente apunta a un reingreso en el Número 11. El álbum alcanzó el número 8 en su lanzamiento original.
El tercer álbum de estudio de Little Simz, NO THANK YOU, entrará en el Top 40 por primera vez después de su lanzamiento en formato físico (12), mientras que King of a Land de Yusuf/Cat Stevens espera debutar en el Top 40 antes de su tragamonedas Glastonbury Legends. este fin de semana (20).
La estrella nigeriana de Afrobeats, Asake, busca su segundo álbum Top 40 con Work of Art (21) y, finalmente, el grupo de blues australiano The Teskey Brothers espera obtener el primero con The Winding Way (37).
---
Descarga nuestra APP BEONERADIO
Google Play | Apple Store
www.be1radio.com
Instagram: @be1radio
---
You may also like