---
The Lathums se une a BBC Music Presentando line-up en el BBC Radio 6 Music Festival en Manchester
Written by rasco on March 14, 2023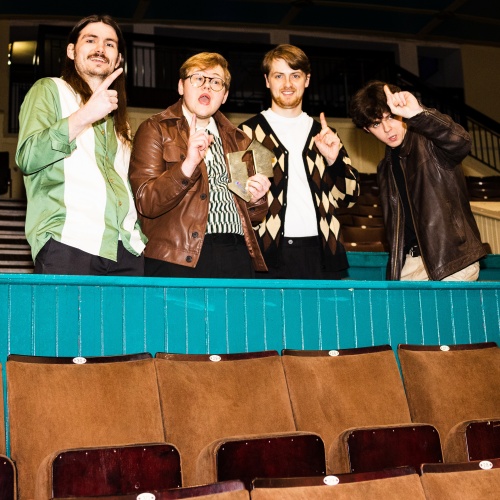 BBC Radio 6 Music anuncia hoy que The Lathums actuará en la noche BBC Music Introducing Live en Band on the Wall en Manchester el jueves 23 de marzo como parte del 6 Music Festival. El anuncio fue hecho por Nemone, reemplazando a Steve Lamacq, en 6 Music esta noche (4pm-7pm). Los Lathum actuarán junto a los artistas de Manchester Afflecks Palace, Antony Szmierek y Phoebe Green.
El cantante principal de The Lathums, Alex Moore, dice: "Estamos muy emocionados de unirnos al 6 Music Festival y de que nuestro set salga al aire en vivo, cosas hermosas".
Joe McGrath, presentador de BBC Radio Manchester, dice: "No puedo creer la suerte que tendrán los oyentes y los asistentes al festival al experimentar una actuación en vivo de The Lathums, y de un lugar tan icónico de Manchester como Band on the Wall".
La banda de indie rock de Wigan está formada por el cantautor y guitarrista Alex, el guitarrista principal Scott Concepcion, el bajista Matty Murphy y el baterista Ryan Durrans y recientemente lanzaron su segundo álbum, From Nothing to a Little Bit More, actualmente número 1 en el Reino Unido en la lista de álbumes oficiales. La banda alcanzó previamente el primer puesto con su disco de estudio debut de 2021, How Beautiful Life Can Be.
Su set será transmitido en vivo por 6 Music, como parte del especial del festival de Tom Robinson el jueves 23 de marzo (9pm-12pm). Steve Lamacq proporcionará el calentamiento, retransmitiendo su espectáculo 6 Music en directo desde Band on the Wall el jueves 23 de marzo (16:00-19:00).
En BBC Radio Manchester, los oyentes pueden escuchar los aspectos más destacados del concierto el jueves 23 de marzo (7 p. m.-10 p. m.). El sábado 25 de marzo, BBC Music Introducing en Manchester (8 p. m.-10 p. m.) volverá a visitar las actuaciones de Afflecks Palace, Antony Szmierek, Phoebe Green y The Lathums y transmitirá entrevistas con estos artistas.
Las presentaciones en vivo vendrán de Loyle Carner, que presenta una nueva colaboración con AMC Gospel Choir de Manchester (viernes 24 de marzo), Christine and the Queens, el estreno mundial de su nuevo espectáculo en vivo (sábado 25 de marzo) y Arlo Parks – el global estreno de música nueva, con invitados especiales (domingo 26 de marzo). Más presentaciones en vivo vendrán de Wu-Lu, Lava La Rue y The Big Moon.
También habrá sesiones de DJ durante el fin de semana de AFRODEUTSCHE, Erol Alkan, Daniel Avery, Don Letts, Good Future, Hot Chip, Jamz Supernova, Steve Lamacq, Tarzsa, The Charlatans' Tim Burgess, Yard Act y BBC Introducing DJs, Emily Pilbeam y Phoebe IH.
---
Descarga nuestra APP BEONERADIO
Google Play | Apple Store
www.be1radio.com
Instagram: @be1radio
---