---
Slash quería tocar la guitarra después de escuchar a Jimmy Page de Led Zeppelin en Whole Lotta Love
Written by rasco on March 18, 2023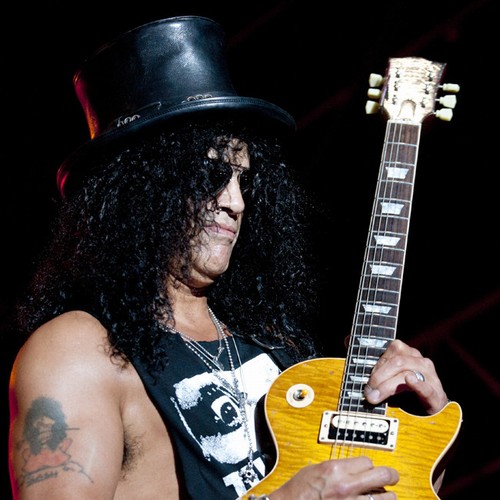 Slash creció queriendo tocar la guitarra como Jimmy Page en Led Zeppelin.
El cazador de hachas de Guns N' Roses ha revelado que se inspiró para elegir la Les Paul después de ver a dioses de la guitarra como Jimmy, Eric Clapton y Rolling Stone Keith Richards tocando el instrumento venerado.
El rockero de 'Welcome to the Jungle' tenía solo siete años cuando escuchó por primera vez el éxito de 1976 de Zeppelin 'Whole Lotta Love' y todavía considera que su álbum 'Zeppelin II' es "uno de los discos más geniales jamás realizados".
En declaraciones a la edición de abril de la revista Total Guitar, dijo: "Hubo algunos tipos que me influyeron cuando se trataba de tocar Les Pauls.
"Había visto a Eric Clapton sosteniendo una, así como a Jimmy Page, Keith Richards, Billy Gibbons… Muchos músicos que tenían un gran sonido usando esas guitarras.
"Recuerdo específicamente haber escuchado 'Whole Lotta Love' de 'Led Zeppelin II' cuando tenía siete años. Y atribuí ese sonido, de lo que sentí que era el disco más genial que había escuchado en ese momento de mi vida, a la Les Paul. Aún así, hasta el día de hoy, diría que es uno de los mejores discos jamás hechos. Y supe que era una Les Paul haciendo esos tonos de guitarra porque vi fotos de Jimmy Page sosteniendo una, así que eso es lo que me hizo asociar la Les Paul con ese tipo de sonido. Mirando hacia atrás ahora, ¡creo que esa conexión fue bastante precisa! Entonces supe que me atraía el sonido de una Les Paul. Tuve esa copia por un tiempo y finalmente se rompió. Fui a través de una miríada de guitarras diferentes para ver cómo sonaban, simplemente explorando cuando se trataba de mi tono. Terminé volviendo a Les Paul y he estado con eso desde entonces".
---
Descarga nuestra APP BEONERADIO
Google Play | Apple Store
www.be1radio.com
Instagram: @be1radio
---