---
Pulp deslumbra al encabezar el escenario principal en el Festival de la Isla de Wight
Written by rasco on June 17, 2023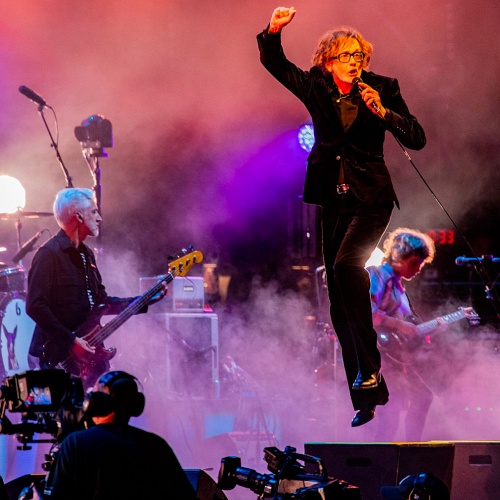 Las leyendas independientes Pulp dieron un espectáculo espectacular como el primer cabeza de cartel de Barclaycard presenta el Festival de la Isla de Wight 2023 anoche (viernes 16 de junio). Interpretando sus grandes éxitos en su '526th Pulp show', la banda ofreció un set electrizante.
El viernes vio la apertura del escenario principal y el primer día completo de música, con una mezcla ecléctica de la realeza del pop y el rock. El inicio de los procedimientos fue una de las bandas nuevas más emocionantes del Reino Unido, The Clause, con su combinación perfecta de grandes ganchos y sensibilidades independientes. Hasta bien entrada la noche, las favoritas de la década del 2000, Sugababes, interpretaron las canciones más queridas 'Push The Button' y 'About You Now' ante una multitud alegre. Los juerguistas independientes Courteeners tocaron en el set del atardecer, lo que proporcionó la atmósfera perfecta para sus éxitos estridentes.
En el escenario Big Top, Peter Hook tocó una selección de clásicos de Joy Division y New Order, incluidos 'Blue Monday' y 'Love Will Tear Us Apart', y The Human League entregó un aura para sentirse bien como cabeza de cartel con su sintetizador. canciones pop.
Aquellos vestidos con disfraces para el tema de este año de 'Dioses y Diosas – Mito y Música' acudirán a Strawberry Fields a las 2 p. m. hoy (sábado 17 de junio) para la coronación de los mejores vestidos del festival. Inspirándose en la vida ficticia, mítica o real, el ganador recibirá un picnic exclusivo entre bastidores y champán.
Durante el resto del fin de semana, los fanáticos disfrutarán de una gran cantidad de actuaciones increíbles en 13 escenarios y actuaciones estelares de George Ezra, The Chemical Brothers y Robbie Williams, así como de Blondie, Anne-Marie, Gabrielle, Niall Horan, James Bay y más.
---
Descarga nuestra APP BEONERADIO
Google Play | Apple Store
www.be1radio.com
Instagram: @be1radio
---
You may also like