---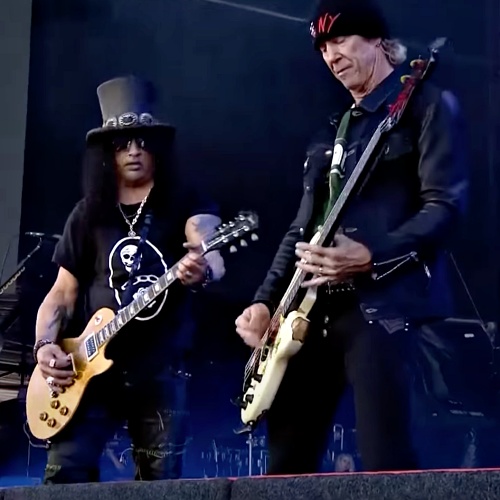 Después de una serie de espectáculos fantásticos en el Reino Unido, Europa y Medio Oriente, Guns N' Roses subió al escenario Great Oak Stage en American Express presenta BST Hyde Park, precedido por una formación de apoyo desenfrenada que incluye a The Pretenders, The Darkness y Larkin. Poe.
Los miembros de la banda Axl Rose, Slash, Duff McKagan, Dizzy Reed, Richard Fortus, Frank Ferrer y Melissa Rees se reunieron frente a una audiencia de 65,000 personas en Hyde Park para repartir canción tras canción de sus 38 años de carrera.
Al llegar al escenario con su clásico It's So Easy del LP de 1987, Appetite for Destruction, la banda recibió a los fanáticos que esperaban con una variedad ininterrumpida de rock dorado, un matiz de lo antiguo y lo nuevo, como Welcome To The Jungle, Mr Brownstone, Double Talkin' Jive y Patience junto a Hard Skool, Slither (Velvet Revolver) y Estranged. Civil War se transformó en una oda a Ucrania con imágenes de casas bombardeadas en las pantallas detrás de la banda.
"Todos se ven jodidamente geniales", dijo Axl Rose a la audiencia.
Continuando con un catálogo de enormes himnos de rock, la banda cantó versiones icónicas que incluyen Live and Let Die (Wings), TV Eye (The Stooges), Down On The Farm (UK Subs) y Knockin' On Heaven's Door (Bob Dylan).
Luego, a medida que avanzaba la noche, llegó el momento de los favoritos: Sweet Child O' Mine, November Rain. Finalmente, luego de tres horas completas, Guns N' Roses cerró su set con Nighttrain, Don't Cry y la icónica Paradise City.
Mientras tanto, The Pretenders, que han estado apoyando a Guns N' Roses durante sus fechas en el Reino Unido y Europa, subieron el listón con su poderoso set de apoyo. En segundo lugar en la cartelera del Great Oak Stage, Chrissie Hynde y la banda tocaron una variedad ininterrumpida de éxitos, como Talk of The Town y la hermosa Hymn To Her, junto con los chispeantes Tattooed Love Boys y el clásico I'll Stand By. Tú.
"Estamos tan emocionados como ustedes de ver Guns N' Roses", sonrió Hynde, antes de lanzarse al himno Don't Get Me Wrong: su energía escénica, como era de esperar, feroz en todo momento. Después de más de una hora, la actuación terminó con Mystery Achievement.
Más temprano en la tarde, Justin Hawkins llevó a The Darkness al escenario durante una hora y 15 minutos de gran rock. El equipo de rock británico abrió con su canción muy querida, Growing On Me, antes de sacar canciones como Heart Explodes, Get Your Hands Off Your Woman y Love Is Only A Feeling. Incluso apretaron uno o dos compases de Christmas Time (Don't Let The Bells End), antes de terminar su set eléctrico con el poderoso I Believe In A Thing Called Love.
"¡Hey chicos! ¿Cómo estás?" Justin preguntó a los fans. "Nunca hemos jugado [Hyde Park] ¡antes!" El líder recibió un rugido de aplausos de los fanáticos cuando se deshizo de una chaqueta negra a rayas y un chaleco negro para su característico look en topless.
El día comenzó en el Rainbow Stage presentado por British Airways con The Dust Coda. Los cuatro fuertes rockeros con sede en Londres repartieron pistas como Limbo Man y canciones de su álbum Top 30, Mojo Skyline, incluido Jimmy 2 Times. Les siguieron la banda de Cardiff James & The Cold Gun, que lanzará su álbum debut el 21 de julio, y los hard rockeros de Los Ángeles, Dirty Honey, que han abierto de manera experta para Axl Rose antes. "¡Vamos a entusiasmarte con Guns N' Roses!" exclamaron.
Finalmente, fue el dúo de rock estadounidense, Larkin Poe, quien abrió el Great Oak Stage ese día. Provenientes del norte de Georgia y que ahora viven en Nashville, las hermanas Rebecca y Megan Lovell animaron a los recién llegados con un set alegre y peculiar. "Qué sueño hecho realidad estar en este escenario y poder decir, '¡Hola, Hyde Park!'", sonrieron.
Un día legendario de música en vivo en el tercer tercer día de American Express de este año presenta BST Hyde Park.
Lee nuestra revisión completa aquí.
---
Descarga nuestra APP BEONERADIO
Google Play | Apple Store
www.be1radio.com
Instagram: @be1radio
---