---
Guns N' Roses anuncia invitados especiales para American Express presenta el espectáculo BST Hyde Park…
Written by rasco on March 30, 2023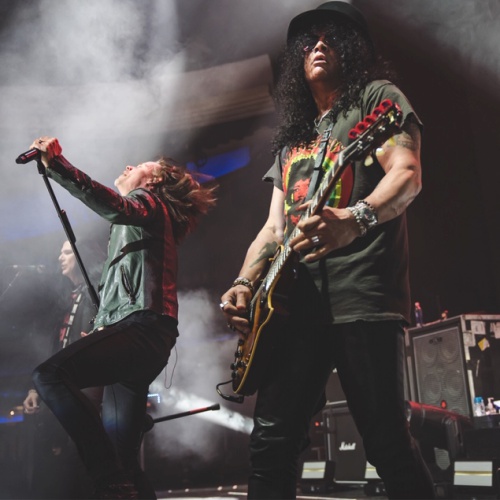 Guns N' Roses se unirá a The Pretenders, The Darkness y Larkin Poe en su espectáculo American Express Presents BST Hyde Park.
La banda de hard rock, compuesta por el líder Axl Rose, los guitarristas Slash, Duff McKagan, Richard Fortus, el baterista Frank Ferrer y los teclistas Dizzy Reed y Melissa Reese, subirá al escenario en Londres el 30 de junio y hoy ( 30.03.23) anunció que se unirán a ellos la banda de la década de 1970 The Pretenders, así como los rockeros de la década de 2000 The Darkness y Larkin Poe de Nashville.
Además de los creadores de éxitos 'Welcome to the Jungle', los fanáticos del rock pueden ver P!NK (24 y 25 de junio), Take That (1 de julio), BLACKPINK (2 de julio), Bruce Springsteen y E Street Band (6 y 8 de julio). ) y Billy Joel (7 de julio) sobre la facturación de BST Hyde Park para 2023, todo ello para celebrar el 10.º aniversario de American Express presenta BST Hyde Park.
El evento de verano fue lanzado por The Rolling Stones en 2013 cuando recrearon su concierto de 1969 y en los años posteriores ha visto actos como Carole King, Celine Dion, Stevie Wonder, Barbra Streisand, Adele, The Rolling Stones, Taylor Swift, Robbie Williams. , Black Sabbath, Take That, Kylie Minogue, The Who, Blur, Kendrick Lamar, The Strokes suben al escenario en el lugar al aire libre.
Reflexionando sobre su propia apariencia, Pink, quien recientemente obtuvo un álbum número uno con el disco de regreso 'Trustfall, dijo: "Han sido tres largos años y he extrañado tanto la música en vivo … ¡Así que finalmente es hora! Yo Estoy muy emocionada de volver al Reino Unido y Europa para cantar, llorar, sudar y crear nuevos recuerdos con mis amigos.
¡Va a ser mágico!
Para obtener más información y entradas, diríjase a www.bst-hydepark.com.
---
Descarga nuestra APP BEONERADIO
Google Play | Apple Store
www.be1radio.com
Instagram: @be1radio
---