---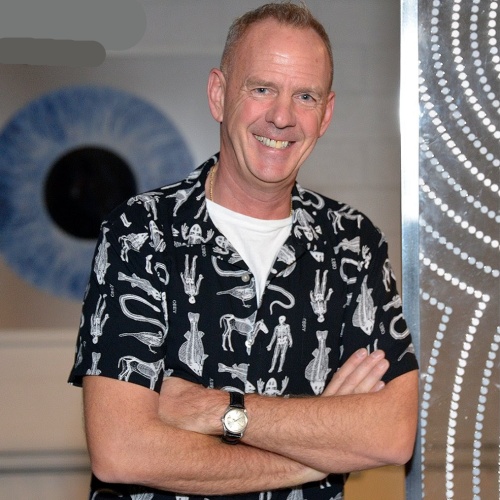 Esta noche a la 1 a. m. en Radio 2, la leyenda de la música dance Fatboy Slim elige las canciones que más han influido en su increíble carrera musical en Mixing Influences… With Fatboy Slim en Radio 2 y BBC Sounds.
Habla sobre sus días de escuela, su fase punk y las bandas que vio en vivo, los vinilos que descubrió en las tiendas de discos y las canciones que escuchó en la radio que lo detuvieron en seco, con el espectáculo que incluye canciones de Donna Summer, The Carpenters , Los Malditos, The Clash y Chemical Brothers.
Sobre The Damned: "Después de 13 años de ser alimentado con cuchara por los Carpenters, mi hermano Simon trajo a casa el punk rock. Cuando terminó la canción, le compré el disco. Cuando el álbum terminó, yo era un punk rockero. Es el sonido de la rebelión que estaba buscando en mi vida".
Sobre Chemical Brothers: "Tom y Ed me fueron presentados por Lindy Layton, con quien había estado en una banda llamada Beats International. Tenía este set de DJ que solía tocar, y ella me llamó un día y me dijo: "sabes, ese set que tocaste de techno lento y hip hop acelerado … hay otros tipos en Londres llamados Chemical Brothers haciendo él. Fue como conocer a tu familia perdida hace mucho tiempo que nunca pensaste que tenías".
Sobre The Clash: "Yo era un rockero punk incondicional. Aún así, la única pandilla en la ciudad era The Clash. No tenían miedo de mezclar diferentes géneros de música. También me influenciaron políticamente enormemente. Realmente me educaron. Los sentimientos de ser el único hombre blanco en una audiencia de reggae me resonó más tarde como el único hombre blanco en una multitud de hip hop".
El programa contará con una brillante mezcla de música de diferentes décadas, diferentes países y múltiples géneros, incluidos soul, hip hop, reggae, disco, blues, funk, punk, pop y, por supuesto, dance, todos los cuales, cuando se combinan , han ayudado a convertir a Fatboy Slim en uno de los DJ más exitosos y queridos del mundo.
---
Descarga nuestra APP BEONERADIO
Google Play | Apple Store
www.be1radio.com
Instagram: @be1radio
---