---
Adrienne Bailon-Houghton revela que Solange Knowles casi estuvo en el elenco de The Cheetah Girls
Written by rasco on July 13, 2023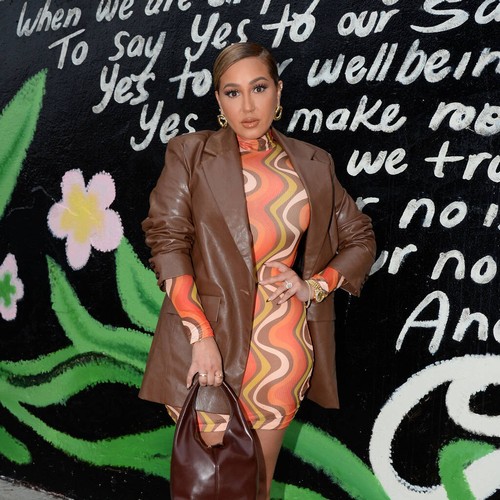 Adrienne Bailon-Houghton ha revelado que Solange Knowles fue casi un personaje principal en la película The Cheetah Girls.
El hombre de 39 años hizo la revelación sobre el elenco que casi fue durante una aparición reciente en el podcast We Said What We Said With Rickey and Denzel.
La ex Cheetah Girl les dijo a los anfitriones que cuando contrató por primera vez el papel de Chanel en la película musical de Disney, "me dijeron que las otras chicas elegidas eran Raven-Symoné como Galleria, Sabrina Bryan como Dorinda, yo como Chanel y Solange Knowles como Aqua".
Adrienne agregó que había pensado que la cantante de Cranes in the Sky encajaba perfectamente con el papel de Aqua, ya que "tiene acento de Texas".
El ex coanfitrión de The Real continuó: "Se suponía que era Solange, y originalmente se suponía que ella sería el miembro del elenco, y en el último minuto, por la razón que sea, terminó no haciendo la película".
El papel de Aqua terminó yendo a la actriz y bailarina Kiely Williams.
La primera película de Cheetah Girls se estrenó en agosto de 2003 en Disney Channel, seguida de The Cheetah Girls 2 y The Cheetah Girls: One World.
Cheetah Girls no solo fue una exitosa serie de películas, sino que tres de las estrellas, Adrienne, Sabrina y Kiely, también eran un grupo pop con el mismo nombre. Raven-Symoné se unió al grupo en álbumes de bandas sonoras.
El grupo de chicas se formó en 2003 pero luego se disolvió en 2008.
---
Descarga nuestra APP BEONERADIO
Google Play | Apple Store
www.be1radio.com
Instagram: @be1radio
---
You may also like
Continue reading