---
boygenius, Melanie Martinez y DMA'S en carrera a tres bandas por el álbum número 1 del Reino Unido
Written by rasco on April 3, 2023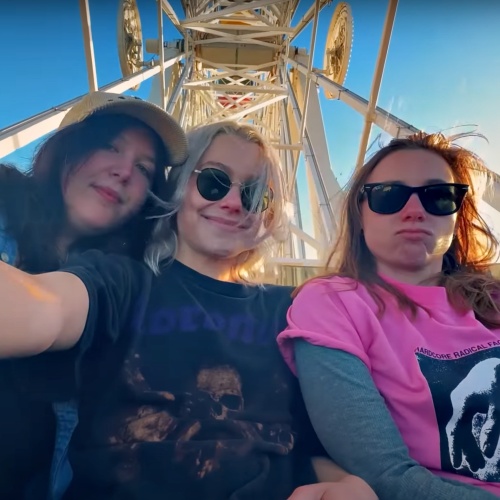 Es una carrera a tres bandas por el álbum número 1 oficial de esta semana, con boygenius, Melanie Martinez y DMA'S esperando llegar a la cumbre el viernes.
Actualmente, liderando el grupo a mitad de semana está el supergrupo boygenius, con su álbum de estudio debut como récord para el primer puesto. El grupo estadounidense de indie rock, integrado por los aclamados cantautores Julien Baker, Phoebe Bridgers y Lucy Dacus, formó y lanzó su EP debut homónimo en 2018.
el disco también podría proporcionar a la miembro Bridgers su LP más alto hasta la fecha en el Reino Unido; su trabajo en solitario de 2020, Punisher, alcanzó el puesto número 6 en su lanzamiento.
Pero de ninguna manera es un trato hecho, ya que la artista estadounidense de pop alternativo Melanie Martinez busca un debut en el Número 2 con su tercer lanzamiento de estudio, Portals. El álbum podría ver a Melanie reclamar lo mejor de su carrera, superando el pico número 8 de su récord K-12 de 2019.
Justo detrás de Melanie, y también en busca de un nuevo récord, se encuentra el grupo australiano de indie rock DMA'S. El grupo -formado por Tommy O'Dell, Matt Mason y Johnny Took- pudo ver su cuarto LP de estudio How Many Dreams? Conviértase en su gráfico más alto hasta ahora (3). DMA'S alcanzó por última vez el Top 10 con el lanzamiento de 2020 THE GLOW (4).
Mira el chat de DMA sobre la creación del álbum con Jess Izsatt en The Record Club, transmitido en vivo este miércoles 5 de abril a las 5:30 p. m. BST.
Tras una reedición completa en formatos de 2LP, CD y casete, el debut de De La Soul en 1989, 3 Feet High and Rising, podría alcanzar un nuevo pico esta semana (4). El récord se recuperó a su mejor nivel actual (12) en marzo de 2023 luego de su muy esperado lanzamiento en los servicios de transmisión digital.
En otros lugares, los íconos del rock The Who parecen listos para marcar un 16° LP Top 10 con The Who with Orchestra – Live at Wembley; una grabación del único espectáculo del grupo en el Reino Unido de su gira Moving On Tour 2019, interpretada junto a la Orquesta Isobel Griffiths de 57 piezas. Explore la extensa historia de las listas oficiales de The Who aquí.
Justo detrás en el número 8, el cantautor nigeriano Davido está en camino de lograr lo mejor de su carrera esta semana con su cuarto álbum de estudio Timeless.
Fuera del Top 10, la banda de post-punk formada en Manchester, IST, busca su primer álbum Top 40 con el tercer lanzamiento de larga duración Protagonists (11), mientras que The Seventh Sun de Bury Tomorrow podría proporcionar al equipo británico de metalcore un quinto (12).
Una reedición de lujo de su disco de 2021 que alcanzó el número 4 CALL ME IF YOU GET LOST podría ver al rapero, cantante y compositor californiano Tyler, The Creator regresar al Top 40 40 (15). Y, por último, el grupo electrónico británico OMD (Orchestral Manoeuvres in the Dark) también espera un regreso con su álbum número 5 de 1983 Dazzle Ships, gracias a una reedición del 40 aniversario (18).
---
Descarga nuestra APP BEONERADIO
Google Play | Apple Store
www.be1radio.com
Instagram: @be1radio
---